Roatan Information
Destination Unknown
Just two hours from Miami, Florida and five hours from San Diego, California lay an island many travelers and investors in the past have overlooked: Roatan, Honduras. Previously a political battleground for Spanish conquistadors and British pirates, Roatan has become a destination for travelers worldwide who seek relaxation, tropical island life, great diving, and lucrative investments.

Honduras is located in Central America and shares borders with Guatemala, Nicaragua, and El Salvador. Costa Rica, Panama, and Belize are short and easy trips from Honduras by air or bus. The democratic government is stable and investor friendly. The official currency in Honduras is the Lempira (L), which offers an approximate exchange rate of 19:1 for the U.S. dollar, 33:1 for the British pound, and 23:1 for the European euro. The cost of living in Honduras is approximately half the amount of the surrounding countries and often considered one of the least expensive countries worldwide. Spanish is the primary language of Honduras, but finding someone who knows enough English to help with translations is fairly easy.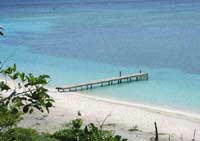 Roatan is the largest of Honduras's Bay Islands. Neighboring Roatan are five smaller islands: Guanaja and Utila (the two most popular next to Roatan), Barbareta, Morat, and Helene. Located approximately 35 miles off the North Coast of Honduras, Roatan measures thirty-two miles long and three miles across at the widest point. The exact population of Roatan is unknown but has grown significantly over the past few years; the estimated population today is close to 65,000. All five islands are surrounded by the second largest barrier reef in the world: The Mayan Barrier Reef. Roatan has a varying topography from lush tropical hillsides to beach fronts and mangroves. This offers the visitor or resident a unique visual environment to enjoy and experience—Roatan is as Caribbean as Caribbean gets.

Getting to Roatan
A valid passport is required to enter the country of Honduras. Honduras requires no visa to enter the country, but visitors who intend to stay longer than 30 days should apply for a 90 day visa from the Honduran consulate before arriving. Residency paperwork can also be found at the consulate.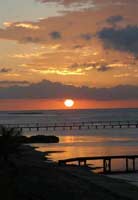 Visitors can get to Roatan (RTB) with direct flights (Roatan has it's own international airport) from their local airport or can fly to one of Honduras's mainland international airports and take a separate flight from there. Travelers should check with Grupo Taca, Continental, American Air, and Delta for direct flights to Roatan. Most flights from other countries will lay over in San Pedro Sula (SAP), Tegucigalpa (TGU), or La Ceiba (LCE). Travelers who choose to fly to Honduras and purchase a separate ticket to Roatan can use Sosa Air, Islena Air, Delta, or Atlantic Air and expect to pay $100 to fly from any of the three major airports to Roatan. All four of the companies sell tickets for same day flights and have schedules that accommodate the arrival of the major airlines each day. Visitors arriving late in the afternoon should expect to stay over night and catch a flight to Roatan the next morning.
Other than flying to Roatan, the only other public transportation option is the ferry service offered from La Ceiba. The ferries owned and operated by Safe Way Maritime Transportation Company, take ninety minutes and cost $15 each way. Ferries leave La Ceiba twice daily-check with the ferry terminal for the current days schedule and arrive early to purchase tickets.
Roatan for Everyone
Roatan offers the best of two worlds: modern facilities, infrastructures, an international airport, public and private hospitals and a growing number of marinas yet remains untouched charm maintaining miles of remote sandy beaches and small fishing villages just feet from one of the greatest reefs in the world. While this may sound like many other Caribbean destinations, Roatan is the perfect island for people who are looking for a place to get away from it all.
The main town on Roatan is Coxen Hole where you can find banks, medical facilities, travel agents, grocery stores, a post office and other necessities including a public gym. French Harbor is another main town on Roatan where you can find many of the same services. Both of these towns are suitable for gatherings with families and friends and both are a great place to meet and interact with friendly locals. Towards the west of the Island is the West End of Roatan where you can find the most popular white sand beaches and an abundance of local dive shops. Just before the West End of Roatan is Sandy Bay. Heading east from Coxen Hole and the West End is Brick Bay, home to a well protected harbor where boats have remained unharmed through hurricane season.
Roatan was released from British control around 1860, but has yet to completely adapt to mainland ways. Though the official language of Honduras is Spanish, the most common language spoken on Roatan is Caribbean English. The official currency is the Lempira, but U.S. dollars are used just as frequently for all transactions. Credit/Debit ATM cards are also accepted at bigger businesses. Roatan has electricity, high-speed Internet, telephones, running hot water, and most modern infrastructures.
Roads on Roatan are easy to navigate; one main road runs lengthwise down the middle of the island. Most roads are paved, but be cautious of potholes. Unpaved Roatan roads are easy enough; be weary when conditions are wet. The speed limit on the island is strictly enforced as pedestrians are not uncommon. People who plan on driving on Roatan should be aware that driving while using a cell phone, driving while smoking, driving without a spare tire and the tools to replace a bad tire, and other uncommon traffic laws are crimes that will result in fines.
Medical services are available on Roatan and are well spread throughout the island. Towards the west there is medical staff available at Anthony's Key Resort. Coxen Hole has the main hospital for the island, but there is also a clinic. Further east are other clinics that are available to help with emergencies. Serious injuries or severe conditions should head to the mainland.
Roatan is home to crime, just as any city is. Most crimes committed on the island are petty thefts and robberies that occur when no one is around. However, visitors and all people should use caution when traveling with valuables and never leave them unattended. It is best to travel in groups and try to avoid dark areas at night as robberies are more common in the late evening.
Roatan Activities
Roatan activities continue to grow. If you love the outdoors and the water there is no better place in the Western Caribbean for you to visit. Roatan is world famous for diving and has been rated as one of the premier locations for diving in the Caribbean. If diving is not your thing you are in luck the snorkeling, kayaking, boating, and sailing options are endless. If fishing is your goal, Roatan has great fishing for tarpon, marlin, and tuna—all caught off the shores of Roatan. While on the East End of the Island world-class fly-fishing can be found on the many mangrove and sand flats. Out of the water the fun does not stop, horse riding, biking, hiking and just exploring in search of that ultimate hidden cove or fresh lobster lunch are also popular activities. Roatan is also home to a small zoo where zoo visitors can see exotic animals from the island and the mainland. Golfing is available on the mainland, but will soon be available on the island as a golf course is already in the making.
Roatan is home to a colorful range of restaurants, whether local or international cuisine is your thing, you will be sure to have your taste buds alight on Roatan. The fresh seafood on Roatan is a specialty: lobster, crab, shrimp, conch and a variety of tropical fish are served in most places on the island. Another favorite is the fresh fruits that are served in many restaurants; tropical smoothies and cocktails are a favorite for many on Roatan.
The bars of West End have become famous over the recent years; Friday and Saturday nights host live music and Caribbean discos are where everyone can be seen at the end of week. Sunday gatherings such as Hole in the Wall, Ricks American Café and Mayan Princess are also very popular places to enjoy a great meal and a few cool drinks and to enjoy the wonders of the Island on a lazy Sunday. During the week the restaurants and bars all over Roatan continually serve up something special for everyone.
Roatan for Visitors
Staying in Roatan ranges on very inexpensive to very expensive based on individual tastes—Roatan has accommodations to suite most everybody's needs. There are hostels at the West End and plenty of nice resorts lining the shores before the West End. Arrangements for accommodations can be made before arriving or found once on the island. If you are traveling during the peak season (December to August) be sure to book something in advance.
All-inclusive dive packages are available with many of the bigger resorts, but for those on a budget, it is relatively inexpensive to find a local dive shop and work out a customized dive package with them. Most dives are ranging from $20 to $30 per dive per person. Open Water P.A.D.I. scuba diving certifications range from $200 to $250 per person.
Getting around the island is easy as taxis and taxi buses are readily available. Always try to negotiate a better price than what quoted, but know that taxi buses charge a set rate that is usually non-negotiable. Flagging down a taxi is as easy as waiving your hand at the first taxi you see (taxi drivers usually honks at pedestrians to inform them they are available for transportation)—if available the driver will stop and take you where you want to go. If you need to arrange for a taxi the next day or for a future time, most drivers will commit and follow through to meeting you. Water taxis are also available to take people between the five islands. Water taxis on Roatan are also available to take people from place to plan on Roatan. Rates for water taxis are generally posted (rates may be higher in the evenings) and are generally non-negotiable.
Car rentals are available on the island. Cars can be rented in the West End and also at the airport. There are also mopeds and bicycles available for rent. Most people will happily give you directions and help you find your way, though Roatan is easy to navigate.
Roatan for Future Residents
Unlike other Central American cities, Roatan is removed from most mainstream political conflicts. Roatan's climate is temperate year-round: the average temperature is 81°F. The people are friendly and the prices of property are on a steady increase, but remain affordable. The people of Roatan are kind, the lifestyle is simple. If all of these traits interest you, then Roatan can be your paradise. Honduras is one of the most reasonable priced places to live in the world and Roatan is no different. Though prices on the Bay Islands are higher than those found on the mainland of Honduras, a couple can afford to live on Roatan for reasonably cheap.
Applying for residency can be done through the consulate and will usually be granted as long as certain financial requirements are met. Most people applying for residency will hire a lawyer to help expedite the paperwork process. The entire process of applying for and getting residency can cost upward from $500.
Bringing Pets to Roatan
It's easier than people think to bring a pet to Roatan. Bringing your pet to Roatan consists of meeting government requirements and fulfilling these requirements before arriving and at the airport once arrived.
Costs, requirements and procedures vary, so I recommend you contact the veterinarian who is authorized to inspect and process paperwork for incoming animals. His name is Santiago Soto and can be reached at 011 504 9909-0595.
More Information
For more information, be sure to check this website out often for up-to-date reports, news stories, travel, and investment information about Roatan, Honduras. Also check out the "Adventures on Roatan" Travel DVD which takes you on a 70 minute tour of the island's many attractions including Roatan's best beaches, diving, hotels, resorts and real estate.
If you have any further questions on Roatan please do not hesitate to contact the Roatan Life Real Estate offices of Steve Hasz. We have lived here for many years and Roatan is our home. We are happy to share with you the knowledge and the wonders of life on Roatan.